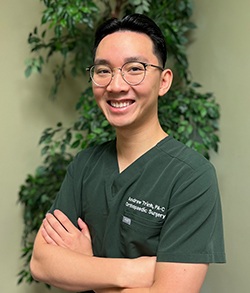 Andrew is a board certified Physician Assistant who has been with Total Sports Medicine since 2022. As a young child in sunny Los Angeles, California, he was always interested in helping others. He received his Bachelor's degree from the University of California, San Diego in Biochemistry and Cell Biology before setting his sights on pursuing a medical career and serving his community.
He first started as an EMT where he responded to 911 calls. He then moved into the hospital setting as a Trauma/Emergency Room Technician where he worked for 2 years. Andrew eventually left San Diego for Las Vegas when was accepted into Touro University Nevada's Physician Assistant program in 2019, and graduated in 2021.
In his spare time, Andrew enjoys watching Lakers basketball, woodworking in his garage, and snowboarding in the winter.